Culebra, with its history of army bombing range has a lot of ruined reefs*. The good news is that it has even more undisturbed, pristine and 'unknown' dive sites. With its proximity to the Puerto Rico trench you get not only beautiful reefs with abundant fish life but also exciting walls that could take you really deep ..
From the novice to the professional Culebra has just the right site for you to explore! There are several accredited dive instructors based in Culebra. The dive shops will also rent you gear or, if you have brought your own, arrange to have your bottles filled. You can also take your boat to the gas station and next to it is 'Mini Mas', where they will fill your bottles (you need to show proof, that you are a certified diver).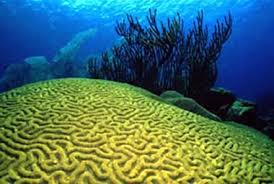 It is best to book dive trips and lessons in advance - especially during holiday season.
*Reefs damaged from hurrican Hugo are recovered. See this video about the
Culebra coral reefs