Culebra Accommodations
Accommodations in Culebra range from
campground
living, directly and simply experiencing the beautiful surroundings and quiet (and the mosquitoes), to climate controlled
villas
with cable, kitchen and refrigerator.
Inquire about accommodations NOW!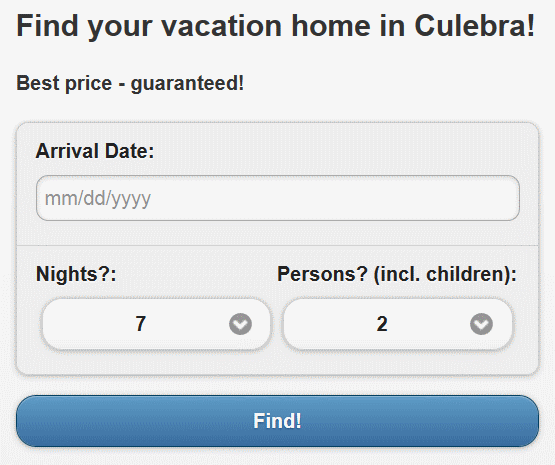 Culebra Travel
Book your vacation rental in Culebra NOW!

Most of Culebra's accommodations are either in the $50 - $120 range,
small rooms and efficiency apartments
or $90 - $180 per night,
vacation rentals and guest houses
.
Compare
amenities in the different categories. Some villas might turn out to be a better deal, especially if you are more than two people!

Casa Robinson
Top Rated Guest House in Culebra!

For locations go to
Town Map
and
Culebra-Map
! Click on the $ signs on the left, according to your budget.
For your convenience you can use the
Inquiry Form
, which will send an e-mail with your specific questions about accommodations to Vacation Rental Owners in Culebra!
You want to be
on the beach
?
For general questions, please use the
Culebra-Forum
. Remember to do a
search
first!